Popularity of Stand Up Paddle Boarding (SUP) in Destin Continues to Grow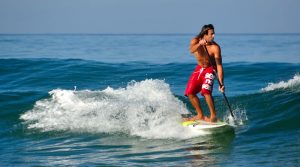 The sport of stand up paddle boarding, or "SUP", is a fairly new sport that is one of the fastest growing water sports in existence today. Widely appreciated for its many health benefits, short learning curve, and high fun factor, SUP continues to grow in popularity around the world with paddlers of all ages.
The stand up paddle boarding scene in Destin, FL is one such place where SUP is exploding in popularity. Destin, and the Sunshine State in general, is an incredible spot for stand up paddle boarding. There are a wide variety of excellent locations in and around Destin to paddle, and the wonderful climate of the area only adds to the appeal.
So why is there so much interest these days in stand up paddle boarding? Here are a few of the top reasons…
Weight Loss and Muscle Toning
Looking for a fun way to lose some weight? Stand up paddle boarding is a great way to burn calories, and it's extremely effective when it comes to shedding unwanted pounds. Paddle boarding is also proven to increase muscle tone and overall conditioning, so if you've been wanting to get into shape, this is an excellent way to do just that!
Fun for the Entire Family
Stand up paddle boarding is something that the entire family can enjoy. Paddlers of all ages are discovering how enjoyable this sport is, and parents can even bring small children along for a paddle.
A Pet-Friendly Sport
Looking for a fun activity to do with your dog? Many SUP enthusiasts enjoy bringing along their four-legged friends whenever they go out for a paddle! Just grab your board and paddle, your dog, and a dog life jacket, and you've got everything needed for a fun, pet-friendly adventure! Paddle boarding is also a great way to cool your pooch off on a hot summer day.
Convenience and Affordability
Stand up paddle boarding is an affordable sport that anyone can get involved with. For $500-$1000, you can purchase a quality stand up paddle board and paddle and be on your way. Many are choosing to buy inflatable paddle boards, because of the fact that they are cheaper, lighter, and far more convenient than traditional hard boards. Inflatable SUP boards are nearly as rigid as hard boards, and when deflated, roll up into the size of a small sleeping bag. They can be thrown in your car, stored under a bed or closet, and even checked with your check in luggage—making them far more versatile and user-friendly than bulky, cumbersome rigid paddle boards.
Final Thoughts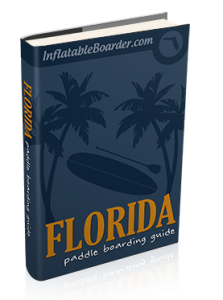 Hopefully this article has given you an informative glimpse at the growing world of stand up paddle boarding. This is a sport that continues to increase in popularity year after year, and if you haven't already given it a try, we encourage you to jump on the bandwagon!
Getting started is extremely easy, and there are several places throughout Destin where you can rent a stand up paddle board for the day. Also, be sure to grab this free Florida SUP guide which lists the best paddle boarding spots in the Sunshine State.
Happy paddling!