5 Reasons to get Married in Destin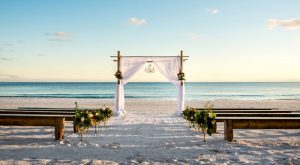 Two very special people – one special day. Why not choose a destination wedding in Destin that will be remembered for its dazzling Gulf views of the Emerald Coast? With award-winning beaches, one of the top U.S. tennis resorts, and a reputation as the "World's Luckiest Fishing Village," Destin is a jewel on Northwest Florida's Emerald Coast.
ResortQuest by Wyndham Vacation Rentals has an abundance of beautiful properties in Destin that are capable of hosting everything from small weddings to large receptions. With locations right along the scenic Gulf Coast, this is ideal for the perfect romantic honeymoon or a beach getaway for the entire wedding party.
Properties such as the SunDestin Beach Resort offer private balconies with breathtaking Gulf views and the luxury of every amenity right under the sun! Located in the heart of Destin, this resort is the perfect place for your destination wedding! Our TOPS'L Beach and Racquet Resort is an award-winning resort located on 52 private acres bordered by the gorgeous beaches of the Gulf of Mexico and a nature preserve—so without ever leaving the resort, your guests can choose from beach relaxation, tennis time or outdoor recreation exploring the area's natural beauty.
Here are the top 5 reasons why a Destin beach wedding would be right for you:
The Beaches
Say "I Do" in the sand! The sparkling Gulf waters and sugar-white sands of Destin create a stunning backdrop for your big day. The beach's natural beauty is flexible. Dress it up or keep it simple – it will look great either way.
Fun for All
Destin has something for everyone. With a wide array of activities, shops and restaurants, all of your guests will be able to find their desired form of entertainment. We have listed some ideas to help your big day stand out above all the rest:
Schedule a "welcome" dolphin cruise for any of your out of town guests arriving early
Treat your bridesmaids to mimosas on the harbor, followed by a spa day and shopping downtown
Plan a deep sea fishing excursion for the groomsmen or a round of golf at one of Destin's many lush courses
A Vacation for Your Guests
Aside from witnessing your nuptials, there is nothing better than relaxing in the sun with your toes in the sand. Your wedding will be a combination of the momentous occasion and the trip of a lifetime – one that your guests will certainly never forget.
Start Your Honeymoon Early
With having your wedding in paradise, there is no need to delay your honeymoon! Plan an extended stay with your new spouse. Walk the beach with pina coladas in-hand, enjoy fresh seafood while listening to local bands and catch the picturesque sunsets.
Have Your Wedding YOUR Way
Destin is home to a wide variety of venues and vendors, all dedicated to making your dream wedding come to life. With the abundance of options, you are guaranteed to find the people who can help create your vision and make your big day as special and unique as your relationship.
A built-in vacation to one of the most beautiful beaches in the country does sound pretty nice, right? The two-in-one deal is pretty convenient, and what could be better than some of those cheerful vacation vibes on your special day? Imagine yourself walking down an aisle of sugar-white sand toward the beautiful Emerald waters with your loved ones right by your side. This gorgeous scene can be a reality when you have your wedding in Destin.