Beach Weddings
All Inclusive
Wedding Info
Destin Florida Beach Weddings All Inclusive
The following accommodation businesses offer all inclusive wedding services. From beach side to beach view ceremonies, music, reception and accommodations, they will work with you to create your special day. Please check with each property for details.
Newman-Dailey Resort Properties
Multiple Locations - Pet Friendly
Newman-Dailey Resorts has the best selection of accommodations for your wedding party. Consider the romantic Beachside Inn or a beach house large enough to host the entire family, such as Best Kept Secret or Call It Blessed. Pick from a large assortment of condos right on the beach, like Summer Breeze in Destin or San Remo on 30-A.
800.225.7652 | 850.837.1071
Inn at Crystal Beach - Managed by Dale E Peterson Vacations
Destin FL
The Inn at Crystal Beach offers the perfect setting for a beach wedding. Located in the heart of Destin with spectacular views of the Gulf of Mexico. The Inn has 2, 3, 4 and 5 bedroom Gulf Front Condos, two hundred feet of beach and the award winning "790 on the Gulf" restaurant for all your catering and reception needs. Call 850.650.7006 for information.
800.336.9669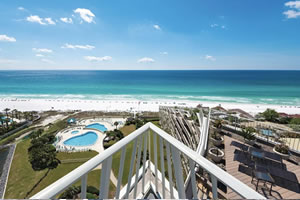 Edgewater Beach Condominium
Destin FL Condos
Now you can share your special moment on the same beach you loved as a kid! Our beachfront location is a beautiful setting for your wedding. Edgewater Beach Condominium offers spacious and comfortable accommodations for both your wedding and reception, and what could be more convenient for guests and members of your wedding party than staying right here on our property.
800.822.4929 | 850.837.1550
Ocean Reef Resorts
Multiple Locations - Pet Friendly
Ocean Reef Resorts prides itself on offering select properties for your wedding party and guests as well as the event itself. With an array of options ranging from 1 bedroom studios to 9 bedroom private homes, no matter what you have in mind for your special day, we have a location for you.
800.782.8736 | 850.837.3935
All Inclusive Beach Weddings & Accommodations
Crescent - Managed by Wyndham Destin FL Condos
A Destin Landmark, this crescent shaped resort is located directly on the Gulf of Mexico in Miramar Beach. The Crescent offers elegant 1, 2, 3 and 4 bedroom condos with complimentary in-room safes. Amenities include two Gulf-side pools (one heated seasonally), hot tub, gazebo, beach boardwalk, fitness center, game room and more.
ResortQuest by Wyndham Vacation Rentals | 877.386.6019
Dune Allen Realty Vacation Rentals Multiple Locations - Pet Friendly
Give your family the vacation of a lifetime in a Dune Allen Realty Vacation Rental. Featuring exceptional gulf front homes and villas, seaside cottages and condos on the Beaches of South Walton and Destin. No matter your budget, whether gulf front, beach side or just a stroll to the world's most beautiful beaches, we will provide the perfect vacation getaway for your family.
888.267.2121
Edgewater Beach Condominium Destin FL Condos
Now you can share your special moment on the same beach you loved as a kid! Our beachfront location is a beautiful setting for your wedding. Edgewater Beach Condominium offers spacious and comfortable accommodations for both your wedding and reception, and what could be more convenient for guests and members of your wedding party than staying right here on our property.
800.822.4929 | 850.837.1550
Embassy Suites Hotel Destin Miramar Beach
Destin - Miramar Beach's only all-suite upscale hotel. Located adjacent to the white sandy beaches, offering private beach access, spacious two-room suites, complimentary cooked to order breakfast with omelet station, evening Manager's Reception featuring complimentary beverages.
888.745.8832 | 850.337.7000
Inn at Crystal Beach - Managed by Dale E Peterson Vacations Destin FL
The Inn at Crystal Beach offers the perfect setting for a beach wedding. Located in the heart of Destin with spectacular views of the Gulf of Mexico. The Inn has 2, 3, 4 and 5 bedroom Gulf Front Condos, two hundred feet of beach and the award winning "790 on the Gulf" restaurant for all your catering and reception needs. Call 850.650.7006 for information.
800.336.9669
Jetty East Destin FL Condos
Jetty East Condominiums is the perfect setting for your beach wedding ceremony. We also have a room available for your reception. Jetty East can assist you with locating vendors, providing the space needed and even performing the ceremony if they desire. 1, 2, 3, & 4 BR condos on Destin's Holiday Isle. All rooms Gulf or Jetty Views, with large living rooms, kitchens and private balconies.
Specials | Reservations | 800.368.0222 | 850.837.2141
Newman-Dailey Resort Properties Multiple Locations - Pet Friendly
Newman-Dailey Resorts has the best selection of accommodations for your wedding party. Consider the romantic Beachside Inn or a beach house large enough to host the entire family, such as Best Kept Secret or Call It Blessed. Pick from a large assortment of condos right on the beach, like Summer Breeze in Destin or San Remo on 30-A.
800.225.7652 | 850.837.1071
Ocean Reef Resorts Multiple Locations - Pet Friendly
Ocean Reef Resorts prides itself on offering select properties for your wedding party and guests as well as the event itself. With an array of options ranging from 1 bedroom studios to 9 bedroom private homes, no matter what you have in mind for your special day, we have a location for you.
800.782.8736 | 850.837.3935
Pelican Beach Resort and Conference Center Destin FL Condos
Gulf front condos and beach resort with convention center. Pelican Beach Resort offers some of the most spectacular views on the Emerald Coast! Amenities include: beach bar, tennis courts, covered parking, inside and outside pools.
888.735.4226 | 850.654.1425
SunDestin Beach Resort - Managed by Wyndham Destin FL Condos
Located directly on the beach in the heart of Destin, SunDestin offers every amenity under the sun. Choose from a large selection of 1, 2 and 3 bedroom condos. Indoor and outdoor pools, hot tub, steam room/sauna, fitness room, game room, and onsite dining are just a few of the amenities you will enjoy when you vacation at SunDestin.
ResortQuest by Wyndham Vacation Rentals | 877.496.8974
TOPS'L Beach & Racquet Resort - Managed by Wyndham Destin FL Condos
This 52 acre Destin resort is surrounded by the beautiful Gulf of Mexico and a tranquil state preserve. Choose from beachfront condos, courtside tennis villas, a hill-top high rise or private homes. Multiple pools, award winning tennis, fitness center and onsite dining are just a few things that keep TOPS'L guests returning year after year.
ResortQuest by Wyndham Vacation Rentals | 866.369.0080