Tennis Resorts and Centers
Sandestin Golf and Beach Resort, Hidden Dunes and TOPS'L have great tennis facilities with certified tennis pros.
---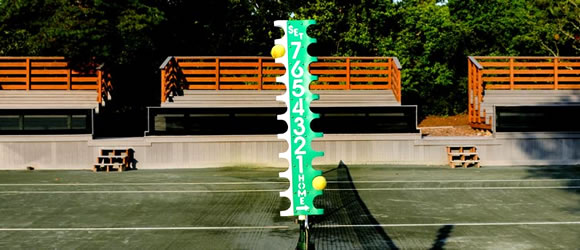 Call 850.269.2590 - Our USPTA teaching staff offers a full complement of year round and seasonal tennis activities, instructional programs and packages which continue to attract tennis enthusiasts to the resort year after year. Services also available include ball machine rental and matchmaking services. We have a full service pro shop offering racquet stringing and repairs, tennis equipment, accessories and apparel.
Hidden Dunes Tennis Center
Six Lighted Cay Courts
USPTA Teaching Staff
Courts Nestled in Beautiful Landscape Setting
Courtside Refreshments
Stadium Court for Exhibition Play
Elevated Viewing Area for Observers
Wet Bar for Small Tennis Parties
Like Level Matchmaking Services
Walk-in Clinics 5 Days a Week
Tennis Packages Available
Full Service Pro Shop
Racquet Stringing Tennis Equipment Available for Purchase
Tennis Racquet Rentals Available
Ball Machine Rentals Available
Tennis Packages
---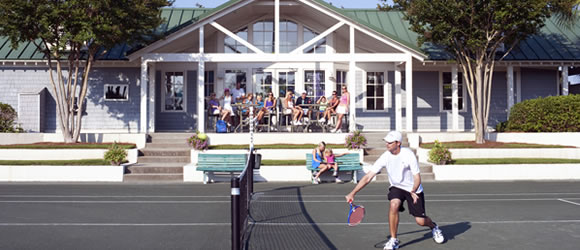 Sandestin Golf and Beach Resort offers the most complete resort experience on Florida's Emerald Coast. Voted the "Best Resort" in Destin, this 2,400-acre destination resort is for all seasons and all ages. Sandestin features more than seven miles of beaches and pristine bay front and more than 1,200 condominiums, villas, town homes and a wide variety of hotel style accommodations.
#1 Pro-shop by Tennis Resorts Online, Voted #15 in the Top 100 Tennis Resorts in the U.S. by Tennis Resorts Online, Top 50 U.S. Tennis Resorts by Tennis Magazine, and #3 in both the Best Overall Children's Programs and Best Junior Tennis Programs categories.
Sandestin Tennis Center
15 World-class Tennis Courts in hard and Hydrogrid clay
State-of-the-art Tennis Center includes a beautiful Clubhouse and convenient Tennis Shop with the latest styles in tennis apparel
Professional staff keeps active players busy year round with daily activities and a variety of special events
Private Lessons
USPTA & USPTR Pros Private Tennis Lessons
Hitting Sessions
Adult Group Clinics
Equipment rental - Ball machines, racquets and balls are available for rent
Park program
Matching service
Racquet tune-up
Junior tennis camp (seasonal)
Round robin: mixed, ladies (seasonal), men
Tennis Packages
Sandestin Tennis Center Year Round Tennis Events
Junior Tennis Quick Start Program
Monday-Thursday, Year-round; 4-5 pm
Men's Round Robins - For All Levels
Monday, Wednesday, Friday, Year-round; 9-11 am
Mixed Doubles Round Robins
Saturdays 10 am & Sundays 9 am Year-round
Adult Tennis Clinics
Monday-Saturday Year-round; 9-10 am
Tennis Packages
---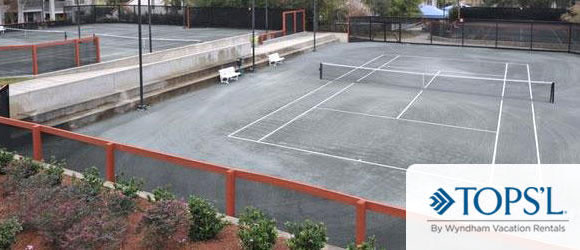 866.478.4402 Reservations | 888.874.9836 Tennis Packages | 850.267.9292 TOPS'L Club
Call 850.267.9292 or visit TOPS'L Beach & Racquet Resort for more information.
Located on 52 acres in Destin, TOPS'L Beach and Tennis Resort offers tennis enthusiasts the ultimate Tennis and Beach vacation. In addition to experiencing our award winning tennis programs and beautiful beaches, TOPS'L guests can choose from a wide array of accommodations including courtside tennis villas, beachfront condos, a hill-top high rise or a private home. Call us today to find out how you can experience the ultimate Tennis and Beach vacation.
TOPS'L was recently ranked in the Top 25 of the Top 100 Tennis Resorts in the World (source: Tennis Resorts Online, 2013, 2014). Best Value for the Dollar (source: Tennis Resorts Online, 2013, 2014). One of the TOP 50 U.S. Tennis Resorts (source: Tennis Magazine)
TOPS'L Tennis Center
12 Newly Resurfaced Clay Courts
Complimentary Use of Tennis Courts
Tennis Desk - Located in TOPS'L Club
USPTA-Certified Tennis Professionals
Private and Group Lessons
Tennis Clinics
Player-Matching Services
Round Robins & Socials
Tennis Packages Available
Racquet Stringing Tennis Equipment Available for Purchase
Tennis Racquet Rentals Available
Ball Machine Rentals Available
Tennis Packages
---
Vacation Condos with Tennis Courts
Okaloosa Island Condos - 1 hard court lighted tennis court, equipment rentals available.
800.395.4853 | 850.203.3029
Destin Condos - 2 lighted hard courts, 2 shuffle boards, and a basketball court.
800.477.8837
Destin Condos - 2 lighted hard courts.
800.368.0222 | 850.837.2141
Managed by Newman-Dailey - Destin Condos, Cottages & Villas - 6 courts - full service tennis resort.
800.225.7652 | 850.837.1071
Destin Condos - 2 lighted hard courts.
888.735.4226 | 850.654.1425
Sandestin - 12 Hydrogrid clay courts and three hard courts.
850.267.7110
Destin - Tennis Resort10 courts - full service tennis resort.
866.478.4402 Reservations | 888.874.9836 Tennis Packages | 850.267.9292 TOPS'L Club
Rental Management Companies with Tennis Courts
Beach Condos in Destin - Multiple Locations - Pet Friendly
Multiple rentals with tennis courts.
888.251.5214
Brooks and Shorey Resorts - Multiple Locations
Multiple rentals with tennis courts
888.423.2120 | 850.244.7177
Dale E. Peterson Vacations - Multiple Locations
Multiple rentals with tennis courts.
800.336.9669 | 850.654.4747
Destin FL Rentals - Multiple Locations - Pet Friendly
Multiple rentals with tennis courts.
888.359.3030 | 850.650.5524
Destin Getaways - Multiple Locations - Pet Friendly
Multiple rentals with tennis courts.
866.612.0125
Dune Allen Realty Vacation Rentals - Multiple Locations - Pet Friendly
Multiple rentals with tennis courts.
888.267.2121 | 850.267.2121
Garrett Realty Services - South Walton Multiple Locations
Multiple rentals with tennis courts.
800.537.5387 | 850.231.1544
Holiday Isle Properties - Multiple Locations - Pet Friendly
Multiple rentals with tennis courts.
800.837.5102 | 850.837.0009
Mara Lee Vacation Rentals - Multiple Locations
Multiple rentals with tennis courts.
913.338.2372
Newman-Dailey Resort Properties - Multiple Locations - Pet Friendly
Multiple rentals with tennis courts.
800.225.7652 | 850.837.1071
Ocean Reef Resorts - Multiple Locations - Pet Friendly
Multiple rentals with tennis courts.
800.782.8736 | 850.837.3935
ResortQuest by Wyndham Vacation Rentals - Multiple Locations
Multiple rentals with tennis courts.
866.478.4402
Southern Vacation Rentals - Multiple Locations - Pet Friendly
Multiple rentals with tennis courts.
866.409.3631
---
Tennis Facilities (Private and Public)
Hidden Dunes Beach & Tennis Resort - Destin - Full Service Tennis Facility
6 courts - full service tennis resort. 800.225.7652 | 850.837.1071
Sandestin Golf and Beach Resort - Sandestin - Full Service Tennis Facility
12 Hydrogrid clay courts and three hard courts. 850.267.7110
Tops'l Beach & Racquet Club - Destin - Full Service Tennis Facility
10 courts, call for information. 866.478.4402
Bay Point Tennis Center - Panama City - Tennis Facility
12 courts, call for information. 850.235.6910
Bluewater Bay Tennis Center - Niceville - Tennis Facility
21 courts, call for information. 850.897.8010
Destin Racquet & Fitness - Destin - Tennis Facility
6 courts, call for information. 850.837.7300
Fort Walton Beach Tennis Center - Fort Walton Beach - Tennis Facility
19 courts, call for information. 850.244.4566
Fort Walton Beach Racquet Club - Fort Walton Beach - Tennis Facility
9 courts, call for information. 850.862.2023
Holly By The Sea Tennis - Navarre - Tennis Facility
8 courts, call for information. 850.939.1693
Panama City Swim & Tennis - Panama City - Tennis Facility
6 courts, call for information. 850.265.9424
Pensacola Athletic Center - Pensacola - Tennis Facility
7 courts, call for information. 850.453.1534
Pensacola Country Club - Pensacola - Tennis Facility
10 courts, call for information. 850.456.3908
Pensacola Sports Center - Pensacola - Tennis Facility
6 courts, call for information.850.478.1400
Roger Scott Tennis Center - Pensacola - Tennis Facility
18 courts, call for information. 850.432.2939
Rosemary Beach - South Walton - Tennis Facility
8 courts, call for information. 850.278.2061
Seaside Swim & Tennis Club - South Walton - Tennis Facility
6 courts, call for information. 850.231.2214
Shalimar Golf and Country Club - Shalimar - Tennis Facility
6 Rubico tennis courts, 4 lighted, pro shop, tennis lesson, ball machine, rental equipment. 850.651.8872
University of West Florida - Pensacola - Tennis Facility
8 courts, call for information. 850.477.1541
WaterColor - South Walton - Tennis Facility
5 courts, call for information. 850.534.5000