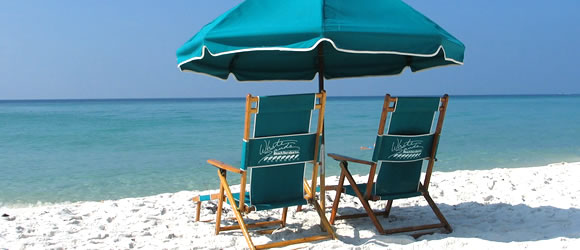 Destin Beach
Henderson Beach State Park is the "crown jewel" of Destin beaches, offering many amenities that other beaches do not, such as concession stands, a mile long bicycle trail along the coast, and pets are permitted in most areas.
Gorgeous mile long beach with the softest white sand and clearest blue water for sunbathing and swimming
Swimming, bicycling, fishing, wildlife viewing, snorkeling, parasailing
Concession stand with gifts and snack bar, picnic tables and shelters
Playground, restroom facilities and showers, washer and dryer facility
Nature trail for birding, hiking and walking
Open 365 days, including holidays, 8 a.m. to sunset, nominal fees
Overnight camping is allowed; get there during open hours
Florida State Parks may require entrance fees per person or per car
Be sure to bring your big shade umbrella along for shelter from the sun as the sun can "Tan You Fast" or "Burn You Badly" if you are fair complexioned. There are only two pavilions that provide shade on this sunny beach.
Kidsail Sailing Academy teaches young children and young adults how to parasail, or spend the day shopping at Silver Sands Factory Stores.