Rentals
Boats, Jet Skis, Kayaks, Boards, Golf Carts, Bikes, Scooters
Water Activities
Cruises, Tours, Rides, Snorkeling, Surfing Lessons
Crab Island
Air Activities
Parasailing, Airplane Rides, Helicopter Rides
Land Activities
Water Parks, Attractions, Tours, Amusement Centers
Recreation
Bike Trails, Horseback Riding, Sport Centers
Area Information
Beaches
Beach & Water Safety
Parks & Trails
Events Calendar - Destin
Events Calendar - South Walton
Destin
Destin Harbor
Specials & Packages
Accommodations
Golf
Recreation & Services
Crab Island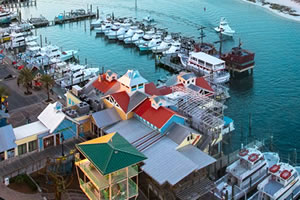 HarborWalk Marina
Destin HarborWalk Village
Full service marina located on the Destin Harbor at the foot of the Destin Bridge. Offering transient boat slips, gas, diesel, oil containment tank, pump out station, ice, bait, tackle, boating and beach items, apparel, soft drinks, snacks, beer and more. Home of SWOOP Party Fishing Boats and the HarborWalk Charters Fishing Fleet.
Harbor Events | 850.337.8250 | 66 Harbor Blvd., Destin FL
SunVenture I
Destin Harbor
Crab Island excursions, dolphin cruises, sunset cruise, weekly firework cruises and private events. The 45' Guy Harvey inspired catamaran departs daily from the Destin Harbor and holds up to 49 passengers. Available for private parties, weddings, rehearsal dinners, receptions, corporate outings and more.
850.424.6465 | 314 Harbor Blvd Destin, Florida
Welcome to Crab Island.... an underwater boating and party island located on the North side of the Destin bridge. As you cross the Destin bridge, from April to November you will see anywhere from 10 to 200 boats anchored in the bay. This is where the locals anchor to spend the day swimming, snorkeling, and playing football. Yes....football as well as Frisbee and volleyball. Crab Island ranges from 2—10 feet deep... depending on where you anchor.
Bring money... During the summer season there is a restaurant/snack barge selling hamburgers and fast food. They also have a huge water trampoline. By boat, vendors sell Ice cream, boiled peanuts, and steam shrimp.
Holiday weekends are a little crazy on Crab Island... look out for the locals.